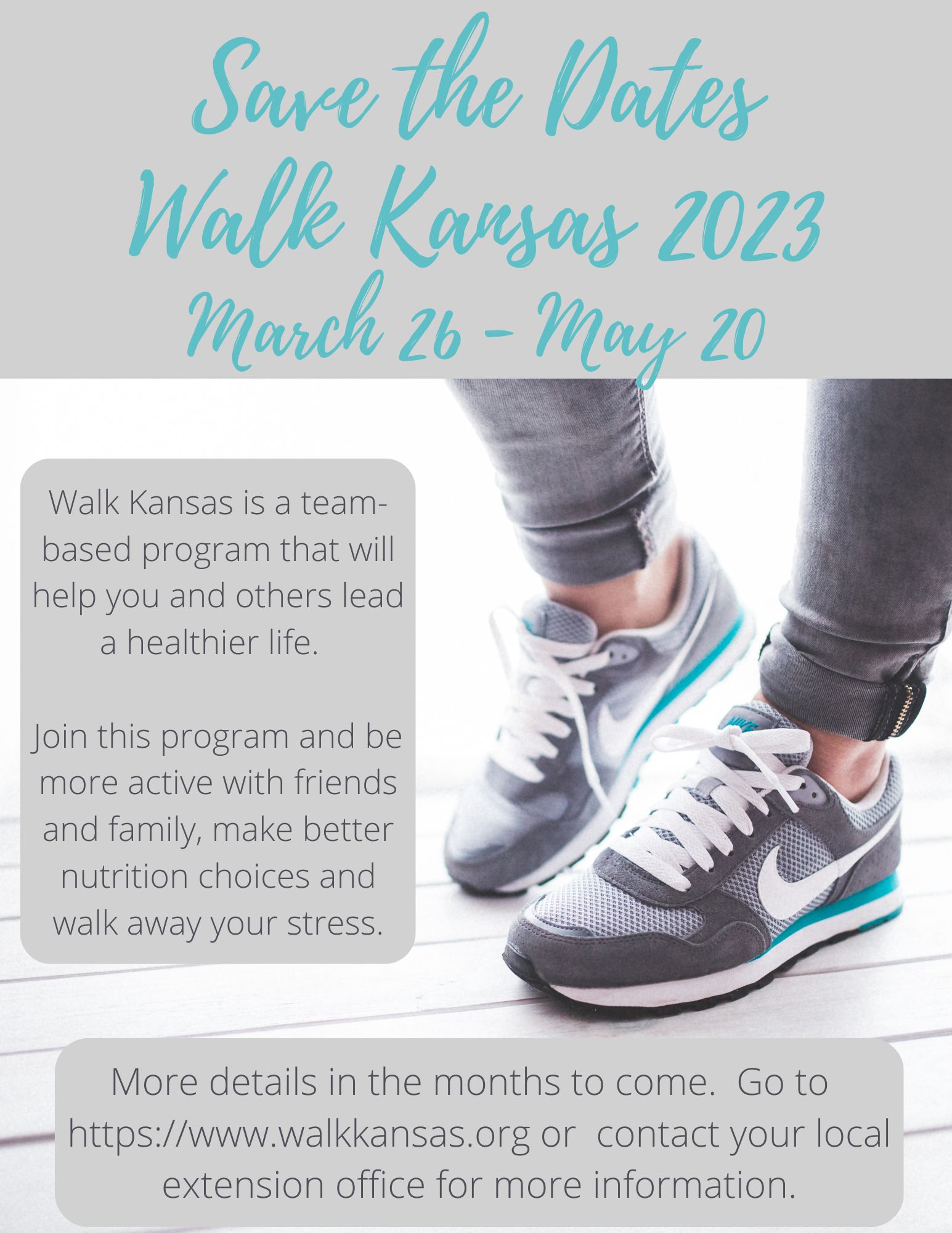 Since 2001, K-State Research and Extension has promoted and encouraged this amazing health treatment – walking – through the Walk Kansas program. This marks the 23rd Walk Kansas program!! Each year brings a renewed focus on helping participants meet the Physical Activity Guidelines for Americans and increasing the amount of fruits and vegetables they eat.
Walk Kansas is a team-based program to celebrate healthy living through an 8 week wellness challenge from March 26th to May 20th. Walk Kansas registration is $10 per person and includes: a weekly newsletter, access to Med Instead of Meds webinars, access to the online system to track physical activity, etc., and local Walk Kansas activities. Registration is now open, click here to get registered. Registration closes on April 2nd.
Join this program and expect to be more active with friends and family, make better nutrition choices, and walk away your stress!
What's new in 2023:
New Partnership: Chisholm Trail district is partenering with Central Kansas District to offer Walk Kansas and provide assistance to registered teams and individuals. For more information on captains' packets click here.
US Route 56 virtual trail!

This journey actually begins in New Mexico, but it won't take long before you reach Kansas to enjoy your trek across the state.
Med Instead of Meds

– 6-week virtual learning series focused on the Mediterranean-style eating pattern. Learn the 7 Simple Steps to eating the Med Way. Each session will explore 1-2 simple steps, a mindfulness skill, and introduce Med Way recipes.
Wanting to purchase this year's apparel? Shop the Walk Kansas website!
Walktober
Time to take advantage of the beautiful weather! WALKtober is based on Physical Activity Guidelines for Americans, which recommend a minimum of 150 minutes of moderate exercise per week OR 75 minutes of vigorous exercise/week. If you wear a fitness tracker, you can report 15 minutes of activity for 2,000 steps (after 6,000 initial steps). 
Research shows that regular physical activity has many great advantages. Regular physical activity can help keep your thinking, learning, and judgment skills sharp as you age. It can also reduce your risk of depression and anxiety and help you sleep better. Exercise can also strengthen your heart and improve your circulation. This helps lower your risk of heart diseases such as high cholesterol, coronary artery disease, and heart attack.